The collapse of Russian GDP shows that Western sanctions are effective. Despite improved GDP estimates, the economic outlook is poor. In this Macro Flash Note, GianLuigi Mandruzzato reviews the consequences of the war on the Russian economy.
Many commentators doubt that the sanctions against Russia adopted after it invaded Ukraine are effective. They point out that high energy prices caused by the sanctions have lowered Russian export volumes but increased export revenues. Furthermore, they argue that the reorientation of energy exports from Europe to other markets, including China, India and Turkey, provides Moscow enough resources to finance the war in Ukraine and support the domestic economy. The ineffectiveness of the sanctions is also evident in the 30% appreciation of the rouble since the beginning of the war and in the upward revision of Russia 2022-23 GDP estimates that would only see a short-lived contraction.
Yet, the data highlight the negative impact of sanctions on the Russian economy: after the invasion of Ukraine, growth collapsed and inflation surged despite low local energy prices.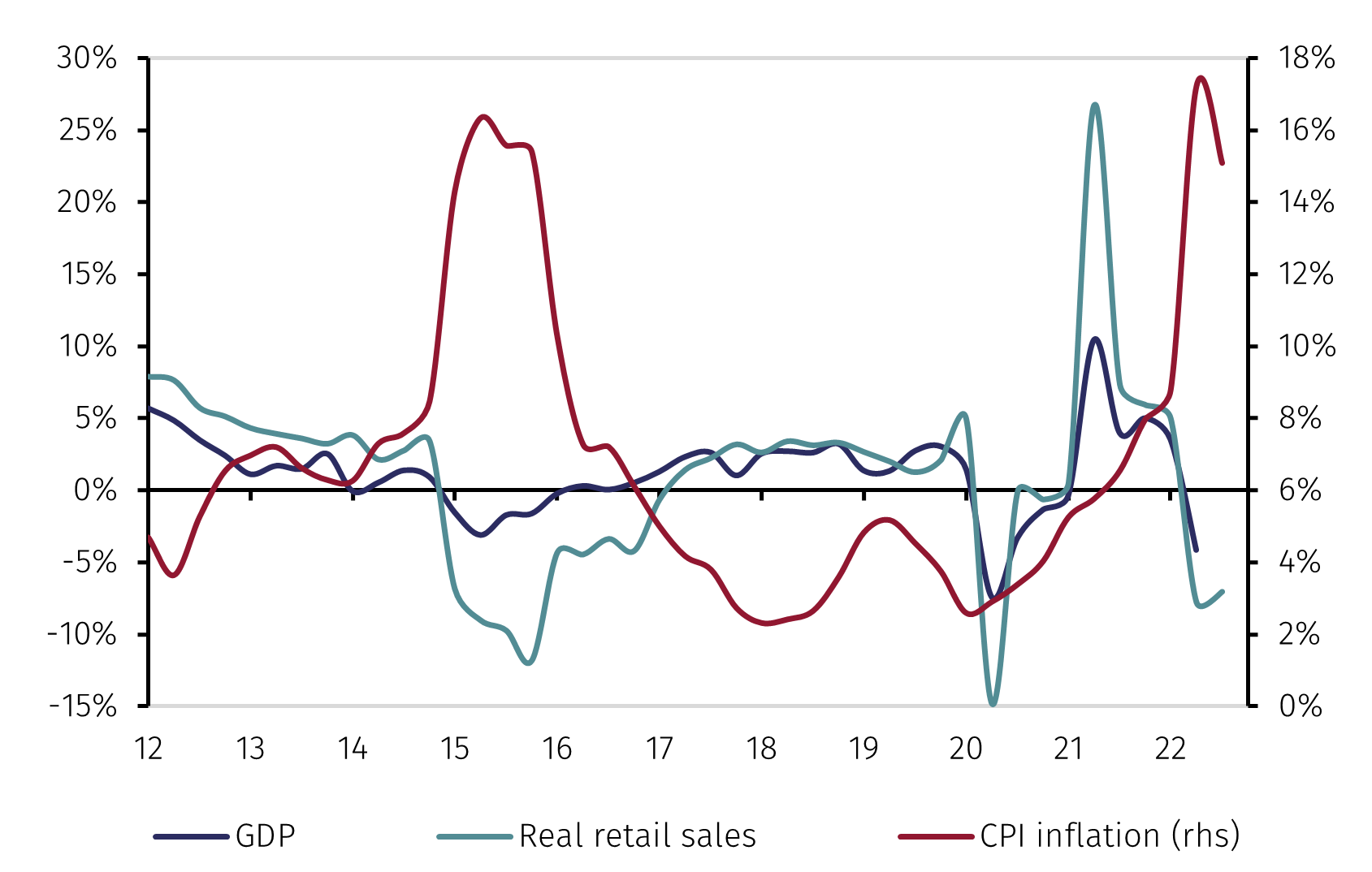 Source: Refinitiv and EFGAM calculations, data as of 12 September 2022.
In detail, in 2022Q2, Russian real GDP growth slumped to -4.1% year-on-year (yoy) from +5% yoy in 2021Q4 (see Figure 1). From an accounting point of view, GDP was boosted by the 22% yoy drop in imports, as reported by the Central Bank of the Russian Federation (CBR).1 The drop in imports was at the root of the collapse in consumption: in July, real retail sales were more than 7% lower than a year before (see Figure 1).
Falling imports are significant because for many categories of goods, including technology and transportation, Russia is dependent on foreign supplies. The aviation sector is a case in point: the shortage of spare parts for airplanes, mostly Western-made, is such that to continue flying, Aeroflot planes must cannibalise other aircraft.2 In addition, the lack of imported automotive components caused the collapse of domestic car production by 90% compared to one year ago.
The shortage of cars pushed their prices up by more than 35% yoy on average in the March-July period, contributing to the general increase in inflation. Russian CPI rose 16% yoy on average in the March-August period compared to 9% yoy in the first two months of the year (see Figure 2). In contrast to Western countries, Russian inflation mainly affects core goods and services, the prices of which are rising more than 18% yoy while energy price increases have been kept below 5% yoy due to government intervention.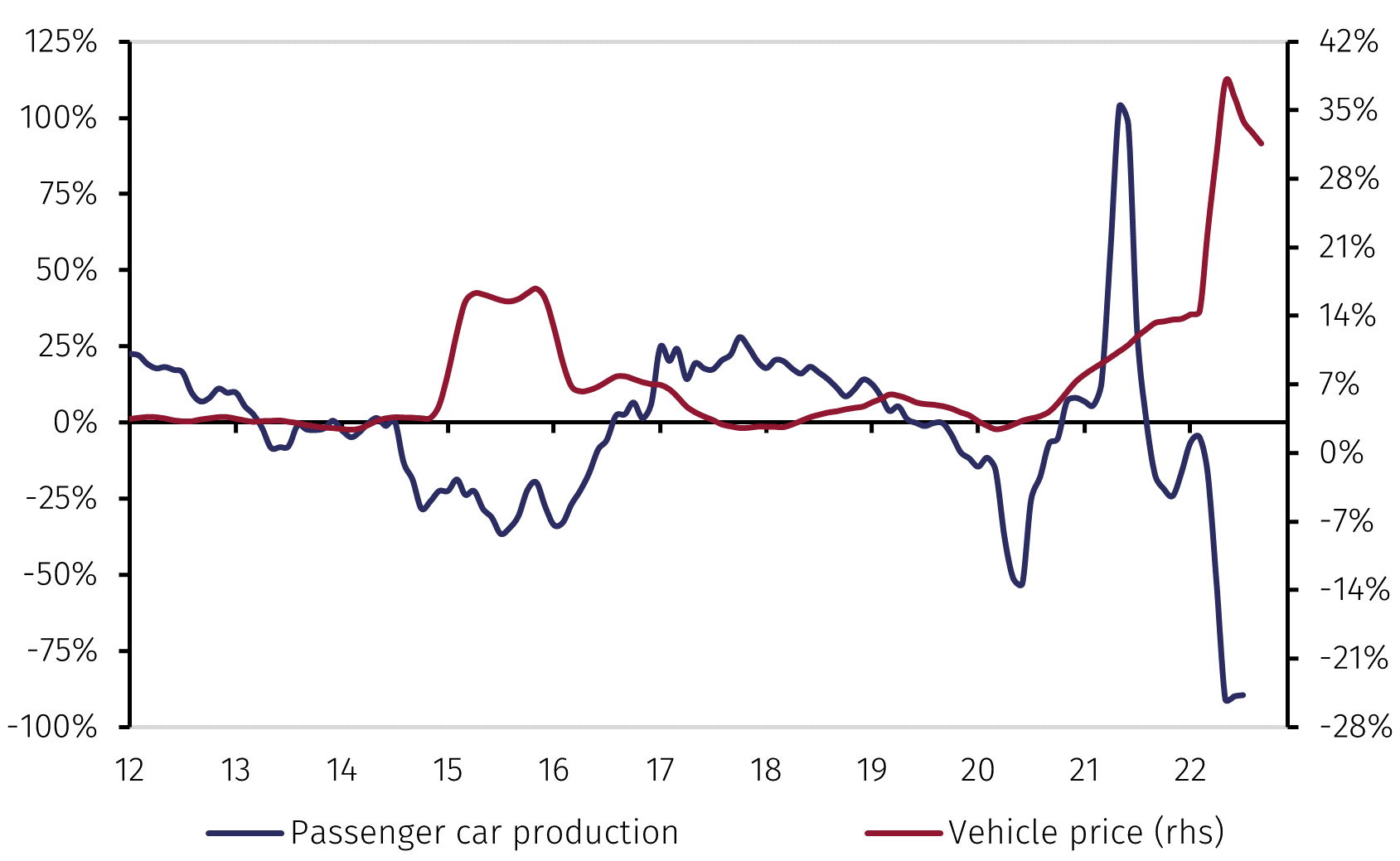 Source: Refinitiv and EFGAM calculations, data as of 12 September 2022.
In the short term, growth will be depressed by the tightening of Western sanctions since June, including the stop to EU imports of petroleum products as from 2023. In addition, Russia has reduced exports of natural gas to the EU to just over 10% of pre-war levels. Since less than half of energy exports that Russia used to ship to the EU can be quickly redirected to other markets, this will cut the resources available to the Russian government to support the economy.
In the medium term, the negative effects of sanctions on the Russian economy will increase. The shortage of spare parts for existing machinery and the lack of access to Western technology will limit the potential output of key sectors in the Russian economy, including agriculture, energy and mining, and the pharmaceutical sector. Furthermore, the brain-drain resulting from the exodus of well-educated young people will also constrain GDP growth.3 Potential GDP growth seems destined to decline further from the already low rate of less than 1% per year that was registered after the annexation of Crimea in 2014 and the first round of Western sanctions.
1 Imports enter with a negative sign in the calculation of the GDP because some of the goods and services consumed and invested are imported. To avoid double counting, imports must be subtracted from GDP.
2 See "Exclusive: Russia starts stripping jetliners for parts as sanctions bite", Reuters, 09.08.2022.
3 See "Russia Privately Warns of Deep and Prolonged Economic Damage", Bloomberg News, 05.09.2022.
Important Information
The value of investments and the income derived from them can fall as well as rise, and past performance is no indicator of future performance. Investment products may be subject to investment risks involving, but not limited to, possible loss of all or part of the principal invested.
This document does not constitute and shall not be construed as a prospectus, advertisement, public offering or placement of, nor a recommendation to buy, sell, hold or solicit, any investment, security, other financial instrument or other product or service. It is not intended to be a final representation of the terms and conditions of any investment, security, other financial instrument or other product or service. This document is for general information only and is not intended as investment advice or any other specific recommendation as to any particular course of action or inaction. The information in this document does not take into account the specific investment objectives, financial situation or particular needs of the recipient. You should seek your own professional advice suitable to your particular circumstances prior to making any investment or if you are in doubt as to the information in this document.
Although information in this document has been obtained from sources believed to be reliable, no member of the EFG group represents or warrants its accuracy, and such information may be incomplete or condensed. Any opinions in this document are subject to change without notice. This document may contain personal opinions which do not necessarily reflect the position of any member of the EFG group. To the fullest extent permissible by law, no member of the EFG group shall be responsible for the consequences of any errors or omissions herein, or reliance upon any opinion or statement contained herein, and each member of the EFG group expressly disclaims any liability, including (without limitation) liability for incidental or consequential damages, arising from the same or resulting from any action or inaction on the part of the recipient in reliance on this document.
The availability of this document in any jurisdiction or country may be contrary to local law or regulation and persons who come into possession of this document should inform themselves of and observe any restrictions. This document may not be reproduced, disclosed or distributed (in whole or in part) to any other person without prior written permission from an authorised member of the EFG group.
This document has been produced by EFG Asset Management (UK) Limited for use by the EFG group and the worldwide subsidiaries and affiliates within the EFG group. EFG Asset Management (UK) Limited is authorised and regulated by the UK Financial Conduct Authority, registered no. 7389746. Registered address: EFG Asset Management (UK) Limited, Park House, 116 Park Street, London W1K 6AP, United Kingdom, telephone +44 (0)20 7491 9111.